*Tyler's Place*
Please see our comments at the bottom of this page
Veuillez voir nos commentaires en bas de cette page
This is where Tyler will post all his work and projects for comments.
My life and interests
Ma vie et les intérêts
Bonjour, mon nom est Tyler. Je suis né à Wenatchee le 26 Novembre, 1992. Wenatchee, qui est comme 3 heures au sud de l'Okanagan. J'ai 19 ans et je suis une personne âgée. Je suis six pieds 7 pouces de haut. J'adore l'histoire, l'histoire romaine en particulier. Je prévois me procurer au moins ma maîtrise en histoire romaine. Mon sport préféré est le baseball et mes équipes de baseball favorite sont les Mariners de Seattle et Detroit Tigers. Mes préférés sont les joueurs de baseball Ken Griffey Jr., Randy Johnson, Nolan Ryan, Ichiro Suzuki, et Justin Verlander. Les sujets que je prends à l'école sont des problèmes mondiaux actuels (PNE), anglais, Applied Econ, la rédaction, en français, la géométrie et l'art. Mes matières préférées sont le français et l'histoire. J'aime l'histoire et je prévois d'aller au collège et de devenir un professeur d'histoire après avoir obtenu mon diplôme d'études secondaires. Je prévois également de jouer au baseball pour le collège que je s'inscrire à. Quand je serai grand, je veux une 1969 Dodge Charger ou une Aston Martin DB9 Vanquish. Ma voiture préférée est une 1969 SS Camero.
Hello, my name is Tyler. I was born in Wenatchee, WA on November 26, 1992. Wenatchee, which is like 3 hours to the south of Okanogan. I am 19 years old and I am a senior. I am six ft. 7 in. tall. I love history, especially roman history. I plan on getting at least my master's in roman history. My favorite sport is baseball and my favorite baseball teams are the Seattle Mariners and Detroit Tigers. My favorite baseball players are Ken Griffey Jr., Randy Johnson, Nolan Ryan, Ichiro Suzuki, and Justin Verlander. The subjects that I am taking in school are Current World Problems (CWP), English, Applied Econ, drafting, French, geometry, and art. My favorite subjects are French and history. I love history and I plan on going to college and becoming a history teacher after I graduate from high school. I also plan on playing baseball for the college that I enroll at. When I get older, I would want a 1969 Dodge Charger or an Aston Martin DB9 Vanquish. My favorite car is a 1969 Camero SS. My favorite movies is the Star Wars Trilogy and I love you, Man. my facvorite T.V. shows are the history channel and How I Met Your Mother.
How I Met Your Mother
Star Wars Trilogy
I love you man
Eastbound and Down
These are the nations of baseball
This is the Seattle Mariners logo. the Mariners is my favorite Baseball team
Chicago, Illinois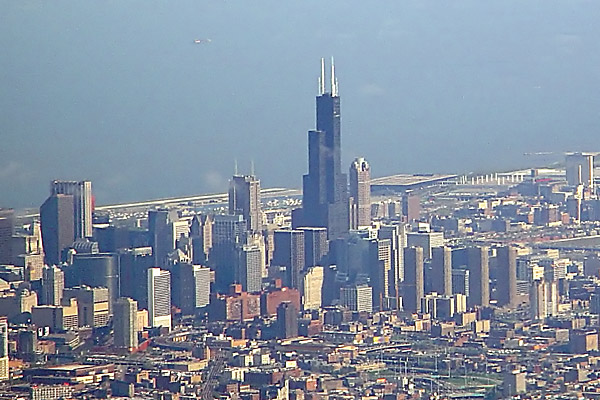 This is a picture of downtown Chicago
Chicago was incorporated as a town in 1833. It is the largest city in Illinois and the third most populous city in the United States. The metropolatian area of Chicago's nickname is "Chicagoland". The city of Chicago has serval names which are "The Windy City", "Second City", "Chi-town", and "the City of Big Shoulders". Chicago is an important worldwide center of commerce.
Histoire de Chicago
Sites touristiques
Activités
page revision: 1, last edited: 22 Feb 2013 22:13