Morgane V's Place
Your Blog/comments are now at the bottom of this page
My name's Morgane.
I'm sixteen I was born in Angers on 08/10/1995.
My village is St Rémy la Varenne
St Rémy la Varenne preserve gathers around four hamlets: Chauvigné, le Bourg Dion, Marigné and Fontaine. The inhabitants are called "Les saint Rémois", and in this village there are 997 inhabitants. This village includes the historical remains of the l last rich person incarnated by the d' presence of dolmen (also known as a "portal tomb"), a unit prioryl Rebirth and a church of twentieth century. . By discovering the city one finds pedestrian paths, hamlets, mills, laundrettes, manors and vaults. There are lodgings and bed and breakfasts at disposal. The origin of the name of the village comes from the saint " Rémy" and from " Varenne" , the old form of " garenne". My village is just in between on Angers and Saumur, 30 minutes for go in the city.
In this village many things happen ! For example there are many festival ! In october there are Apple party, where people sell everythings.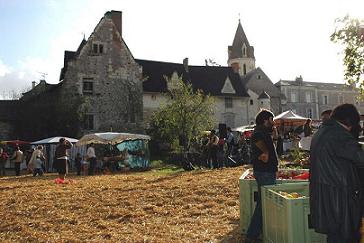 This is the place where people sell lots of things. Lots of people coming for walking and looking the expositions.
box with lots of Apple !
This is a machin that squeeze Apple to make fruit juice.
In the autumn there is the "Fête des courges"( Gourd festival) which is beautiful because there are many colors and shop assistant ! Yes People sell soap, caramel, etc.
there is a ladybird ! drawn with Apple and cucurbitaceous (a plant family that includes gourds, melons, squashes, etc.)
I live appart from this village (2-3Km). My house is in the country. (all the photos is me that took them)


The landscape shows the countryside well, filled with fields and forest!
In country there are lots of animal, cats, rabbits, horses, cows…
This is a cat that is wild. Cats frequently found in the country.
In my country there is nothing to do ! Just walk, take photo and relaxe because it is so peaceful and quiet ! In the evening the sunet is beautiful !
Comments
page revision: 20, last edited: 10 Dec 2011 22:03