Julien C's Presentation of a French city
Please see our comments at the bottom of this page
Veuillez voir nos commentaires en bas de cette page
I will speak about "les sables d'olonne", it is a city in the west of France, there are 15212 inhabitants, a lot of tourists go there during the summer holidays, they go to the beach, to the casino, go shopping or they go for bike rides, there are a lot of bike paths ! there is a very big harbour, with a lot of boats, every year in September the "Vendée Globe" begins there, it's a very famous race.
History :
- from the 5th century to the 15th century, english want to invade this city !
- During the "Guerre de Vendée" (Vendee war) many people died there.
- In 1825 the city became a seaside resort.
- In 1866 the first train came to the city
- In 1898 a tramway was build, but it has been destruct during the first world war !
- During the second World War, the city was destroyed by the Nazis !
- Now it's a very beautiful city, with many hotels, every year, many tourists go there. I was born in a little town next to "les Sables D'ollones", which is called "Talmont St Hilaire"
Tourism :
Every year, many tourists go there, there are many hotels : 35 in all next to the sea ! There are two very big campsites too, the city is equipped to receive tourists, there are two very long beaches and a big stadium to practise basket ball !
Harbour :
"les sables d'ollones" is surrounded by the sea, there are three harbours in the city, "the fishing harbour", "the business harbour" and "the sailing harbour" and there are four big lighthouses !
night view of the beach.
the principal harbour
during a storm, a cargo was shipwrecked on the beach !
a very old and beautiful hotel.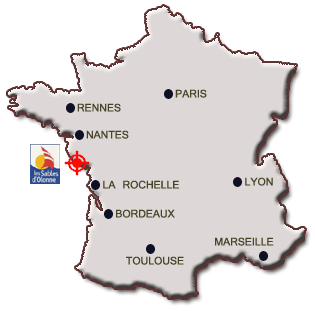 location of the city.
page revision: 9, last edited: 02 Feb 2012 21:27