Harlie's Page
Please see our comments at the bottom of this page
Veuillez voir nos commentaires en bas de cette page
This is where Harlie will post all of her work and projects for comments.
A Little About Me(:
Bonjour! Je m'appelle Harlie Patrick. J'ai quinze ans. J'habite á Okanogan, Washington. Je six cours. Je l'anglais, l'histoire, la biologie, la géométrie, la français, et la musique. Mais j'aime mieux la français, la musique, et l'histoire. J'aime bien le chocolat, las bananes, la glace, et football américain. J'adore le New Orleans Saints et Dallas Cowboys. Je n'aime pas les escargots, et le football. J'aime sortir avec les copains beaucoup! Im une cheerleader pour mon lycée. J'applaudis à la fois pour l'automne et les sports d'hiver. Mon téléphone portable est mon meilleur ami, mais j'ai des amis réels aussi, alors ne vous inquiétez pas, je ne suis pas anti-social! Hahaha. (:.. Mes parents sont divorcés, et j'ai à la fois une belle-mère et un beau-papa maintenant, j'ai un petit frère, mais il ne marche pas vivre avec moi, il vit avec mon père, je vais en Allemagne tous les ans à Noël et partie de l'été, car c'est là que mon père, belle-mère et son petit frère vivent. C'est toujours une aventure! Mes groupes préférés sont All Time Low, We The Kings, A Day To Remember, Red Jumpsuit Apparatus, Nicki Minaj, Mac Miller et de grossières j'aime moi quelques Skrillex (comme dans la musique dubstep!). (: Eh bien, au revoir!
Hello! Im Harlie Patrick. Im fifteen years old. I live in Okanogan Washington, and take six classes at the local Highschool. My classes are English, History, Biology, Geometry, French and Music. I prefer the classes French, Music, and History. I love chocolate, banana's, ice cream and American Football. I love the New Orleans Saints and the Dallas Cowboys. I hate snails, and soccer. I love hanging out with my friends alot! Im a cheerleader for my highschool. I cheer for both Fall and Winter sports. My cellphone is my best friend, but I have actual friends too so dont worry, im not anti social! Hahaha. (: My parents are divorced, and I have both a Step-Mom and a Step-Dad now. I have a little brother, but he doesnt live with me, he lives with my dad. I go to Germany every year for Christmas and part of the summer because thats where my Dad, Step-Mom and Little Brother live. Its always quite an adventure! My favorite bands are All Time Low, We The Kings, A Day To Remember, Red Jumpsuit Apparatus, Nicki Minaj, Mac Miller, and of coarse I love me some Skrillex (as in dubstep music!). (: Well, au revoir!
C'est moi(:

Ma ville:


//Ive lived here since I was 4, my dads in the Army so I moved around alot, Ive spent alot fo time in Germany, but I really like it here in Okanogan. Theres about 40,333 people here. Its nice. (:
Member of my Cheerleading Squad 2011: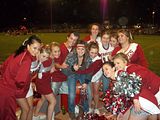 J'aime la musique ici sont mes groupes préférés:
All Time Low<3

We The Kings<3

The Summer Set<3

The Friday Night Boys<3

Hedley<3

A Day To Remember<3

Hey Monday<3

Red Jumpsuit Apparatus<3

Nicki Minaj<3

Mac Miller<3

Skrillex<3

Mes films préférés!:
Step Brothers<3

Star Wars<3

Lords of Dogtown<3

Las Vegas, Navada!
My favorite US City is Las Vgeas, Nevada. Its beautiful, and lots of fun. There are 478,434 in the city of Las Vegas. Its known for its famous "Strip" (shown above), which consists of Casinos, Hotels, Wedding Chapels, Hospitals, and a super duper big AirPort. Its super duper hot ALL the time.
Comments
page revision: 14, last edited: 03 Mar 2012 22:55