Elodie Xav's Place
Comments
Your mark : 15/20
Comment : Great work ! Well organized.
Savennières is a French village, located in the department of Maine-et-Loire and the region of Pays de la Loire. It's a village that has remained traditional.
Its inhabitants are called Saponariens and Saponariennes. The population of the town is relatively young. There are more men than women.
The Municipality covers 21 km² and 1422 inhabitants (in 2005) with a density of 67.7 inhabitants/km².
The mayor of Savennières is Jaques Chambrier. There are different public services in the municipality: Town Hall, schools, peri home school, bakery, grocery store, bar, post and library.
The neighboring Savennières are Behuard, Saint Jean de la Croix, la Possonnières.
Savennières is located 13 km south west of Angers.
The municipality of Epiré is attached in Savennières.
The municipality is a world Heritage Site of UNESCO since November 2000.
It is composed of boroughs of Savennières and épiré.
Savennières has one of the oldest church in all of western France. The church of Savennières, built in the tenth century is especially noteworthy from the point of architectural or symbolism.
The clock runs the church.
Hiking the hills of Savennières is a journey of 10 km in the vineyards. Savennières is known for its viticulture (wine- growing) on the Loire. In the "Domaine des Forges" passion of the winemaker has been transmitted for 5 generations. The family vineyard is 42 hectares. Out of respect for nature, culture methods remain traditional. The Domain manufactures different wines. The town has a total of 35 titles in the territory. There are about 32 farms.
This tree is a plan is a 250 year old plant. I like it because I loved to climb when I was small but since it is damaged it should not climb it.
It is in this Park "du Fresne".
There are many monuments and Sites classified Savennières:
-"La Pierre Bécherel" and neighborring rocks (protected site classified: photo left)
-Church of Saint-Pierre and Saint-Romain.
-"Logis de la cour"
-"Logie de la coulée de Sérrant"
-Windmill Plussin
-Windmill "du Fresne"
-Ruins of the ancient Castle of Serrant.
-" Rives de la Guillemette"
-"Parc du Fresne" whose cnturies old Plane tree.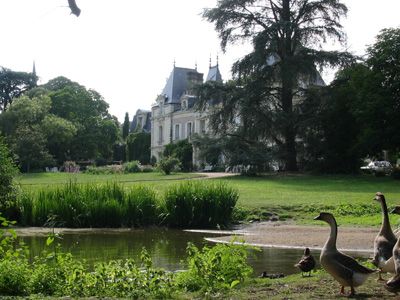 (Pierre bécherel and castle vaults)
There are several castle in Savennières as:
-Castle des Vault
-Castle Chambourau
-Castle de Varennes.
-Castle de la franchaie
-Castle de la Roche aux Moine
"La Boule de Fort":
In Savennières there is a games room entirely devoted to the game "La Boule de Fort".
Team Savennières is called "La Concorde de Savennières".
This game is symbolic of our little village.
"La Boule de Fort" is a traditional ball game in Anjou.
On the Loire can make boat trips.
I love going on boats is very relaxing.
The "Gabares" boats are typical of the region.
Your mark : 15/20
Comment : Great work ! Well organized.
page revision: 88, last edited: 06 Dec 2011 21:31