Coralie L's Presentation of a French city
Please see our comments at the bottom of this page
Veuillez voir nos commentaires en bas de cette page
BARENTIN
Barentin is a French commune in the department of Seine-Maritime, which is in the region of Haute-Normandie. It has 12,153 inhabitants and its area is 12,74 km² . People who live here are called « Barentinois » (for the male population) and « Barentinses » (for the female population) . Barentin is situated 17 km from Rouen. His canton is Pavilly. The mayor of Barentin is Michel Bentot. He has been the mayor since 2008.
Barentin stretchs 1 274 hectares. It's situated at the intersection of the big trunck road :
- to Paris bis Le Havre
- to Dieppe bis la Vallée de la Seine
L'Austreberthe ( a river, which is long as 18 km ) crosses the commune of Barentin. This commune is graded « two flowers » in the competition of flower cities and villages.
In Barentin, there are 3 gym and 2 stadiums.
There are sport clubs too like :
- Football Club Barentinois
- Boxing Club Barentinois
- Sport U.S. Barentin: Flag (Crazy Bees)
- American Football
There are two newspapers, « Paris-Normandie » and « Le Courrier cauchois » .
There are two middle schools, one high school of general eduaction and two professional high schools.
There is a theater called « Montdory » and a public room « Léo Lagrange »
The city has a lot of medical Services : a hospital, a nursing home and a convalescent center. There are also several doctors. There is an Ophthalmologist, an orthopedic surgeon, a dermatologist, cardiologists, ENTs and a dietician.
Barentin is twinned with Castiglione delle Stiviere ( Italy ) and Warendorf ( Germany )
Warendorf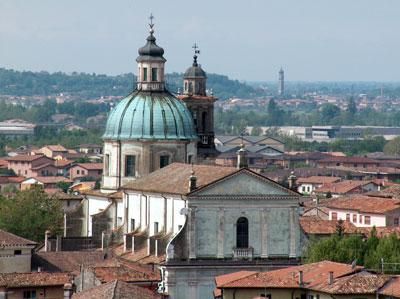 Castiglione delle Stiviere
History
In 1846 : collapse of the viaduct of Barentin, which has been rebuilt. It's now very tall, 33 meters tall et 480 meters long.
From 1006, Barentin was known and noticed because of its economic activities. From the Middle Ages to today, paper-making industries, mills and the high technology made a deep impression on the development of the city.
There is a cultural life, which is very attractive because there is a museum in the streets. It's exceptional in France.
There are a lot of stores, a large artisanal and industrial commercial zone. There are tourists during all the year.
The Church Saint-Martin, which had been built between 1855 and 1860.
The municipality of Barentin continued the creation of « Museum in the city » . So, there are a lot of statues in all the city. It was created by André Marie. She claims the title of the city of the hundred statues. In fact, there are 160 statues. The most famous is a replica of the Statue of Liberty. It is 13,5 meters high. It made of polyester for the movie « Le Cerveau ». The movie offered the statue to the city.
I chose this city because I grew up there.
Sources : Toutes les images proviennent du site wikipédia.
Comments
page revision: 22, last edited: 05 Feb 2012 20:27