Coralie L's Music and Movies
La tour Montparnasse infernale.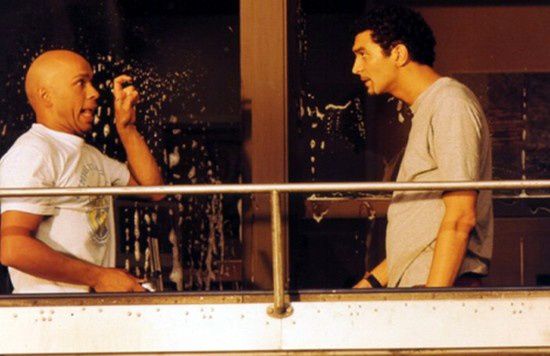 This French film was directed by Charles Nemes and is output came to theaters in 2000. The two main characters are Eric Judor et and Ramzy Bedia. These are two well-known comics comedians in France.
The film tells the story of two window cleaners, Eric and Ramzy, who are always late in to their work. Clinging to their nacelle Bosun's chair outside the 52nd floor of the Montparnasse Tower in Paris, Eric looks Marie-Joelle, her real name is Stephanie, through the window. Eric is has been in love with her since always for a long time.
Meanwhile, Ramzy consumes protein drinks aimed at giving him the an athletic body, which he has always dreamed of.
The Tower is empty when a commando invests the building, controlling all access and taking the Lanceval family in hostage in order to make him open his safe to seize millions of francs, which are in it.
Witnesses of this crazy business, Ramzy is first terrified and determined to flee but Eric, who doesn't understand the danger of the situation, wants to save Stephanie, his undying love, that he believes in danger.
So the two heroes decide to try to save Stephanie.
Eric accidentally discovers an hand in a bag and believes that it's a Chinese lucky charm. But he ignores that terrorists need it to open the safe.
We learn at the end of the film that Stephanie is the organizer of the robbery and she covets the fortune of his uncle, who she has always despised.
Stephanie goes away with the money that she can't use because of an "involuntary" joke "involuntary" of the two heroes. They added a 1 in front of each ticket 500 francs.
I like this film because I like the two main characters and because it's really funny.

_ Soprano, my idol ♥ :)
I like listening to music, my favorite bands are Secondhand Serenade, Selena Gomez and the Scene, Linkin Park, Paramore, Rammstein, Muse, Maroon 5 and Simple Plan. I listen to a lot of styles of music. Everything except for reggae as it gets on my nerves. I like Soprano, a French rapper. He's the only rapper that I like because usually I don't like rap.
During my free time, I like going out with my friends, I like shopping, reading, writing and partying, however I never drink alcohol and I never smoke.
My favorite animals are killer whales and tortoises. I know it's strange !
I hate being bored, so when I do I listen to music.
My favorite series of books is " A House of Night"
I like watching series in their original version with French subtitles. My favorite series are "The Vampire Diaries" , "Pretty Little Liars" , "Glee" and "Supernatural" .
I'm impulsive and impatient but I'm nice and I'm a good listener. I'm really curious but I can keep a secret :)
My dream is to visit New-York and other cities of the USA, as well as the countryside.
I don't know what I want to do in the future but I am considering becoming a translator or interpreter.
I love speaking English but I can't really pronounce some words as for example "through" .
_ I love "Pretty Little Liars" , "The Vampire Diaries" , "Gossip Girl" and "Glee" ; there are my favorite series :)
page revision: 3, last edited: 02 May 2012 20:53